The family which set up the famous museum to the great detective at 221b Baker Street London have recently been to the High Court in dispute over just who is entitled to the museum admission fees. 
As these add up to a not unsubstantial few quid short of £2 million, it is understandable, if not elementary. The case is due to be heard in May.
If this plus the beautiful spring weather has re-ignited your Sherlockian investigatory instincts here are few recommendations of other places well known to the great man himself.
As we all know Sherlock Holmes retired to East Dean in Sussex, conveniently situated near to a very good pub, the Tiger Inn. The pub caters for walkers on the Beachy Head coastal path and has the required large portions for healthy sea-air inspired appetites.
 In 'The Valley of Fear' Holmes investigates a murder at Birlstone Manor in Sussex involving his enemy Professor Moriarty. The manor is based on Groombridge Place, which Conan Doyle often visited to take part in seances with the owners Louisa and Eliza Saint.
In his non-fiction book 'At the Edge of the Unknown' Conan Doyle talks about the ghost of an ostler he saw at Groombridge.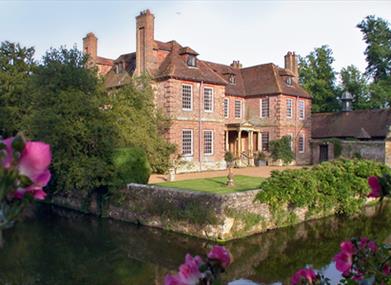 Groombridge Manor, is just outside of Royal Tunbridge Wells, the river Grom providing the original county boundary line between Kent & Sussex. Conan Doyle declared himself not  particularly keen on Kent having become the recipient of one of the county's first speeding offences (original on view at Maidstone Records Office). Groombridge Place is now open to the public and well worth a visit to view the gardens alone.
If you feel you cannot stray out of London, then head for the latest Sherlock Holmes 'shrine' in Smithfield at St Bart's hospital. This is where Holmes originally met Dr Watson, in the Pathology Labs, and it is where according to the BBC's latest Sherlock starring Benedict Cumberbatch, that he fell to his apparent death from the roof of the hospital. Check out the red phone box for messages (not the usual type found in phone boxes) – tributes to Sherlock Holmes. The BBC's final scene (with some apparent apologies to Batman) gives nothing away and the plot thickens, all to be revealed in the next series, the production of which is starting now in March 2013.
If the new series picks up where the old left off, then avid Sherlock fans need to be spending some serious time in Smithfield as this is surely where filming must commence.
Blue Badge tourist guide